Cancer, diabetes, cardiovascular disease and lung disease are the leading causes of preventable death and disability in Canada. The Public Health Agency of Canada refers to them as "The Big Four."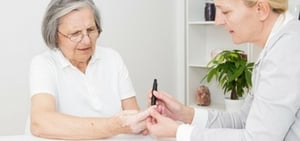 The Big Four do not need to be a foregone conclusion. Everyday choices can reduce your chance of living with cancer, cardiovascular disease, diabetes and lung disease. Here are some tips from the Public Health Agency of Canada to help prevent chronic disease.
Don't smoke. If you smoke, find a way to quit. Smoking can increase your risk of cancer, cardiovascular disease and lung disease. If you have tried cold turkey in the past, talk to your doctor about smoking cessation aids available to you.
Get moving. We need to be physically active every day. Exercise benefits your heart and helps maintain a healthy body weight, which helps fend off cardiovascular disease and diabetes. Physical activity can be as simple as walking or stretching. Make it a social event by joining a hiking club, like The Bruce Trail. Here are Canada's physical activity guidelines for adults (18-64 years old) and older adults (65+).
Eat healthy foods. A healthy, balanced diet can decrease your risk of diabetes and cardiovascular disease. We've covered produce delivery programs as a great way to help people of all ages increase their intake of fruits and vegetables. If you ensure all your meals follow Canada's Eat Well Plate, you will help lower your risk of chronic disease.
Maintain a healthy weight. Carrying extra pounds increases your risk for diabetes, heart disease and some cancers. Talk to your doctor about weight management programs that could work for you.
Keep your blood pressure in check. Managing your blood pressure can help prevent damage to the walls of your arteries that can include bulging and hardening, which contributes to heart disease. Have your health care provider check your blood pressure regularly. In addition, you can download the ComForCare Home Care blood pressure log to help you track your numbers.
Limit your intake of alcohol. Moderate drinking means an average of one drink per day for women and two drinks per day for men. Anything over this amount can put you at risk for numerous types of cancer.
Reduce your stress. Each day needs time in it for relaxation. Take a yoga class. Download a meditation app. Stress reduction helps with cholesterol levels, blood pressure and can help prevent mental illnesses like depression.
While these seven tips seem simple and concise, our busy lifestyles often do not allow for significant change. Still, tackling even one of these can help reduce your chance of living with chronic disease, and that is worth the effort. Enlist everyone you can to help you. Set small, realistic goals and do your best. Good luck!