"Eat food. Not too much. Mostly plants." – Michael Pollan author of "Food Rules"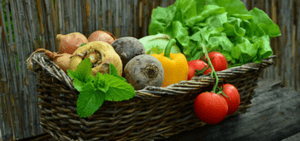 Most of us know we should be following Michael Pollan's deceptively simple rules for eating well. These rules become even more important as we age. Yet, older adults face nutritional challenges for reasons that go beyond food trends and confusing food advice.
From 2008 to 2009, one third of Canadian seniors were at nutritional risk. Nutritional risk increases at older ages, according to Statistics Canada. Living alone is a risk factor for insufficient nutrition, as is living with a mental illness or physical disability. Nutritional risk is also correlated with low socio-economic status and reduced social participation.
"It is important to identify the people most likely to be at risk of nutritional depletion, who, without intervention, may become malnourished, frail, and susceptible to negative health outcomes including functional limitations, poor quality of life, longer hospital stays and readmissions, and earlier death," according to Statistics Canada.
Bridging the Gap With Local Produce Delivery
If your elder loved one is having trouble getting to and navigating the grocery store, local produce delivery could help bridge the gap.
Community Supported Agriculture (CSA) and food delivery subscriptions support farmers in your community and provide members with fresh local produce. Most CSAs are agreements where residents/members invest upfront with a group of farmers by purchasing a share in the season's harvest then reap the rewards in the form of fresh produce. This means that the food in the box is determined by what is ripe at that time.
There are also food box subscriptions, such as Hello Fresh and MissFresh, that require a monthly, weekly or biweekly fee for delivery of fresh produce and easy-to-follow recipes. Some subscriptions even pre-cut and pre-measure the ingredients for you. So, you don't have to worry about wasting food or over-seasoning meals.
How to Sign Up for a CSA
There is no over-arching body to contact to find the produce delivery in your community, but here is a region-by-region guide as a starting point. Or, just search online for "local produce delivery," "community supported agriculture" or "good food box" along with your elder loved one's location. It may take some research to find the program that works best for you and your older loved one. Here are some places to start:
When Your Loved One Needs More Help
Some seniors need more help with meal preparation and even reminders to eat. That is where ComForCare Home Care can help. If your aging loved one is skipping meals, losing weight excessively or keeps expired, spoiled food in their fridge, call us at 800-886-4044 for a no-obligation in-home consultation. ComForCare Home Care is available 24/7 to assist with errands, meal preparation and personal care.
Michael Pollan clarifies his "eat food" instructions with a note about how to recognize real food: "Don't eat anything your great-grandmother wouldn't recognize as food." It follows that we should make sure the great-grandmothers and grandfathers in our lives are eating well. Local food delivery programs and ComForCare Home Care can help you make sure your older loved ones experience the joy of eating well for as long as possible.
Meal preparation is just one of the many ways ComForCare Home Care helps aging adults and those living with a chronic medical condition or recovering from an illness or injury live their best life possible. For more information on how in-home care supports independent living, download our 50 Ways We Can Help checklist.