Barbara of Chatham, Ontario is 85 and she starts her holiday baking early. "If I don't get started in November, I might as well not start," she says. Once December hits, the numerous clubs and groups she belongs to begin hosting their holiday events, and she barely has time for baking. Barbara's signature dishes are a Christmas cake, a shortbread cookie and an oatmeal cookie with a secret ingredient ("They're made with lard!").
While delicious, Barbara might be looking to lighten up her holiday baking next season as she was recently diagnosed with diabetes. Barbara thought by the time she was 85, she'd be able to eat whatever she wanted. She never expected to have to modify generations-old recipes or give up holiday baking altogether.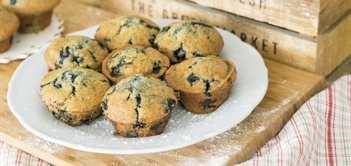 If you're like Barbara and looking to adopt some healthier habits in the new year, here are some great baking substitutions:
Sugar Substitutes
Applesauce – For every cup of sugar the recipe calls for, use 1 cup of applesauce. Reduce other liquid in recipe by one quarter to account for the liquid in the applesauce. This works well in many recipes like quick breads (banana, zucchini) or in oatmeal cookies and brownies.
Vanilla extract – For every 2 tablespoons of sugar, substitute ½ a teaspoon of vanilla extract. This works well in cookies, cakes, sweet breads and brownies.
Stevia – Stevia is 300 times sweeter than sugar so a little goes a long way. 1 teaspoon of liquid stevia or 2 tablespoons of powder stevia can replace 1 cup of sugar. This substitution works well in cookies, cakes and sweet breads.
Fat Substitutes
Applesauce – Substitute ½ a cup of applesauce mixed with ½ a cup of the oil or butter the recipe calls for. This works well in quick breads and muffins.
Avocado – Substitute 1 cup of puréed avocado for 1 cup of butter. This option is great for chocolate-based desserts like brownies and chocolate mousse.
Prunes – Mix ¾ of a cup of prunes with ¼ cup boiling water and blend until smooth. Use in place of 1 cup of butter. Prunes are great in chocolate desserts or dense, rich cakes.
Bananas – Substitute 1 mashed banana for each cup of oil or butter that the recipe calls for. Works well in brownies and cookies.
Flour Substitutes
Whole wheat flour – 1 cup of whole wheat flour can stand in for 1 cup of white flour and provide more fibre.
Black beans – 1 cup of puréed black beans can stand in for flour. Beans hold up well in brownie recipes and other dense chocolate desserts.
Nut flours – Nut flours can help you cater to the gluten-free diets at your table. Be sure to look up the correct amount to use in place of white flour.
Many Canadians struggle with how to indulge a sweet tooth while respecting dietary restrictions. Gluten-free, vegan, vegetarian, heart-healthy and diabetic diets are often all represented in one family.
During this last holiday season, Barbara decided to make her recipes as they were written and to give all the goodies away. Maybe this year, she will try out a nut flour and some prune butter. Whatever you decide, we at ComForCare Home Care wish you a happy and healthy new year!