What gives our lives meaning? Meaning comes from doing. The tasks we perform daily are imbued with meaning when they align with our skills and interests, when they engage us, and when we feel a sense of accomplishment from them. Meaningful activities delight and create purpose in our lives and help us socialize.
We all need meaningful activities, and that need does not stop if someone is living with Alzheimer's or another form of dementia. It is important that meaningful activities for people living with dementia also include an element of reminiscing.
As caregivers, how can we incorporate meaningful activities into the lives of the loved ones we care for? It can be as simple as making a dish together that uses an old family recipe. Or caregivers can create activities that refer back to the work their loved one did when they were younger. Here, some caregivers give examples of meaningful activities they have developed for their loved ones.
Danielle ― Halifax, Nova Scotia
I care for my father who has Alzheimer's. He always used to love watching "Jeopardy!" We still watch together, every night. I remind him of the times he got "Psychic Jeopardy," which is what we call it when you guess the answer to Final Jeopardy only from seeing the category. He got it several times, especially when the topic was literature-related and he always used to call me to brag. Now, I remind him of it and we still try to guess "Psychic Jeopardy."
Brad ― Saskatoon, Saskatchewan
We have full time caregivers living with my mother ever since she had a stroke a few years ago that affected her memory and mobility. For the longest time I would go visit her out of a sense of obligation, and I wouldn't know what to do with her or talk to her about. One day, I came around 4:30 p.m. because I had gotten off of work early. I got there right when her caregiver was taking her out for a walk. I took her on the walk instead. Now, walking is our thing. We have a regular weekly walk every Thursday afternoon at 4:30 before her dinner.
Sometimes I stay for dinner. Maybe it's something about how we do not have to look at each other, but our conversations outdoors are always so much better than when we would just sit in our armchairs. We talk about the trees and the changing of the seasons. Every now and then, she'll comment on a neighbour's garden and stop to take a look. She used to be an avid gardener before her stroke. It gives us both something to look forward to every week.
Irina ― Lloydminster, Alberta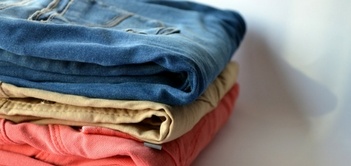 When I started caring for my mother, I struggled with how to get everything done. One day I broke down crying because there was so much laundry to fold. I finally realized my mother has dementia and some mobility issues, but she can still fold laundry. I asked her if she would be willing to fold and I would put the laundry away. It was the best thing I ever did!
She folds the laundry and takes a real pride in sorting it into the correct piles and separating it. She used to do the laundry when I was younger, and we used to make games of folding and putting it away. It has been a real weight off my mind and a realization: I don't have to do everything. Plus, when my mother folds, she feels a sense of accomplishment in a job well done.
Valerie ― Toronto, Ontario
I honestly did not know what to do when I went to visit my Aunt Val in her retirement home. I never knew what to bring or what to say.
One day, I told her about a meditation app I had tried on my phone. I was trying to meditate every day. Now, whenever I go see her, I pull up a guided meditation, and we do it together. She says she struggles to keep her mind focused on her breathing, and I have the same problem. Then we talk about what distracts us and what we liked and didn't like about the meditation. It's opened up a great way for us to be together and to keep up on my meditation.
The need to feel productive, to play, to take care of oneself, to rest and rejuvenate are needs we all share. For more information about meaningful activities, and for a handy chart to keep track of the ones you do with your loved one, download this guide.