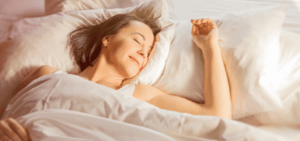 Being a caregiver can be challenging emotionally and physically. In addition to the responsibilities of caregiving, you may deal with issues at work, social isolation/loneliness, financial issues and/or your own medical conditions.
After a long day, most caregivers want to be able to relax and get a good night's sleep; however, that may be challenging: a toddler with nightmares, a teen coming home past curfew, a restless pet or an older loved one who needs help getting to the bathroom. And, once you do find the time to sleep, it hard to fall asleep.
According to a study, sleep problems were common among caregivers, especially those who provided care for more than five hours a week.
Persistent disrupted or reduced amounts of sleep can have significant adverse effects on the cardiovascular system. Poor sleep can also cause weight gain, a higher risk of depression and can potentially be linked to dementia.
Getting a Good Night's Rest
The Canadian Sleep Society says sleep can last 7.5 to 8 hours on average but can also range between 6 to 9 hours. Moreover, everyone should determine their own nightly sleep need. Consider these tips to help improve your sleep:
Adopt a regular sleep-wake cycle
Create an optimal environment for sleep: a quiet and dark room with a comfortable ambient temperature
Reduce or eliminate alcohol, caffeine and nicotine intake
Don't eat large meals or exercise near bedtime
Be active, eat well and exercise daily
Discuss sleep difficulties with your family doctor
Is caring for an older loved one causing you to have a poor quality of sleep? ComForCare Home Care can help. Our compassionate and highly trained caregivers can care for your loved one for just a few hours a week up to 24/7, so you can rest assured.