In an NPR interview early in his career, Jerry Seinfeld talked about how difficult it was to perform stand-up comedy in front of his parents. When his parents were in the audience, he felt off balance: "In front of your parents – you always want them to have the power."
Many of us go through much of our adult lives feeling as if our parents or older loved ones are still in charge. It can be destabilizing, scary and difficult to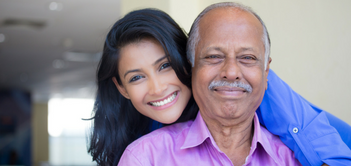 admit power relationships have shifted, and we may have a new role to play. Since it is always different when it is your mom, dad or great uncle Felix, we have compiled some small signs that led people to realize they needed to get help for their aging loved ones.
Larry: "She didn't want me to worry."
I used to visit my mother on business trips. She would make me dinner and tell me about her social engagements: bridge with Aunt Bonnie and golf with Uncle Ed and how everyone was doing. Then, I got a call from Uncle Ed. He told me my mother had not golfed with him for a month. He was worried. Mom had been slowly withdrawing from her social engagements. When I asked her why, she said it had all become "too much." We had an honest discussion and she talked about her difficulty getting ready and getting out of the house. I think if I had been more honest with myself, I would have seen other signs, like mail piling up and the house not being as tidy as she used to keep it. Thankfully, we got help so the "too much" became more manageable.
Michelle: "Since I had a little distance, I could see more clearly."
My husband is one of three boys. Whenever the brothers and their dad get together, they reminisce about their family history non-stop. They all have nostalgic hearts, and they feel the time before their mother passed is their family's golden age. I think my in-laws' nostalgia prevented them from seeing their father, Sabih, was having trouble living on his own. Sabih always took pride in his appearance. He had a weekly manicure and went to the barber regularly. I started to notice Sabih's hands were not as well kept as they had been, and I noticed patches where he had missed shaving.
It was not easy to get my husband to see what was going on, so I printed out one of those articles about how to know if someone needs help at home. I showed him how many of the items on the list Sabih had been exhibiting. We called a family meeting, and we met similar resistance from my husband's two brothers. They were afraid to lose the family home as they knew it. They were afraid to admit that their dad needed help. After much back and forth, we realized minor changes, like having occasional help made it possible for Sabih to stay in the family home comfortably. Don't let the past stop you from helping a loved one in the present. Plus, if you have a clear outsider view like I did, speak up.
Valerie: "When I saw the stove left on, I knew."
My great-aunt Elizabeth was known for her cooking. People raved about her potato salad and her strawberry rhubarb pie. Growing up with her in my life is what made me want to become a professional chef, which I am now. I remember she had the discipline of a chef, even though she never had any formal training. She used to tell me to clean as I went and always to make sure everything was turned off and put away before you sat down to eat.
I knew something was wrong when I visited her and walked into her kitchen. There were dirty plates in the sink, expired and mouldy food in the fridge and, most tellingly, she had left a back burner on by accident. Auntie Liz never had children so I got my cousins together, and we decided that Auntie could stay in her home if we got her a little help with meal preparation and housework. Auntie does not cook as much as she used to, but when I visit now, the kitchen is as it should be: neat, orderly and clean.
Try and be objective and to look at the facts when considering whether one of your elder loved ones is safe or happy at home. At ComForCare Home Care, we have compiled a list of signs it may be time to consider in-home care. You can download it here.
If you have known someone from when you were a child, it makes it hard to see that person as flawed or vulnerable. Your aging loved ones cared for you in your formative years. It may be time for them to receive some care. If you need help caring for an aging loved one, ComForCare Home Care can help.
Editor's note: This article was originally published June 5, 2017. It has been revamped and updated for accuracy and comprehensiveness.