At some point in their lives, it's estimated nearly half of all Canadians will become family caregivers. This means they provide some sort of unpaid care to a family member or friend who has a long-term health condition, disability or aging needs.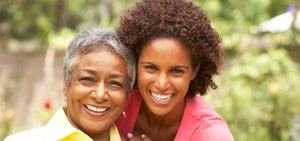 While caregiving can be a spiritually elevating and rewarding experience, it also can put a strain on the caregiver emotionally and physically.
Family caregivers often feel overstretched, especially when trying to balance their caregiving duties with a career, children and their personal lives. According to the Government of Canada:
More than a quarter of family caregivers found providing care somewhat or very stressful.
Nearly 20 percent said their physical and emotional health suffered as a result of their caregiving responsibilities.
More than half of family caregivers felt worried, anxious and/or tired as a result of their caregiving responsibilities.
The fact is — everyone needs a break sometimes. That's where respite care comes in. Respite care provides a family caregiver time away from their caregiving responsibilities to rest and recharge. It's a way to take a much-needed break while still meeting their friend's or family member's needs.
At ComForCare Home Care, we provide in-home respite care. A professional caregiver comes to a person's home, where they are most comfortable, and takes care of them as their family would. Our caregivers are available for a few hours a day up to 24/7, including holidays. We can assist with a wide variety of daily activities, including:
Bathing, grooming and getting dressed
Grocery shopping and meal preparation
Transportation to doctor appointments and errands
Light housekeeping and laundry
Medication reminders
In addition, our caregivers provide companionship. We take into account a person's hobbies, skills and interests, and incorporate Meaningful Activities into their daily routines. We also have innovative programs for people with Alzheimer's disease and other forms of dementia.
It's often said you can't fill from an empty cup. Respite care provides family caregivers with the opportunity to spend time with other friends or family members, run errands, get to the doctor or the gym, take a vacation, get a haircut or simply relax. If you or someone you know could use a break, contact ComForCare Home Care for a no obligation in-home consultation.