Wondering about what gift to give Grandma for Christmas? Spending family time together for the holidays might be the best gift of all.
Research
shows sharing an experience rather than buying a gift inspires gratitude and happiness.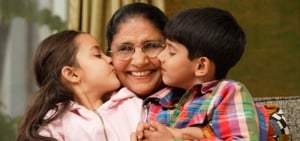 Happiness isn't dependent on whether you give your aging loved one the right gift. In general, Canadians ages 60 and older are
more satisfied with life
than adults ages 20 to 59. For the most part, life seems to get better as it gets longer. Canadian seniors (age 70 and above) actually have
higher levels of satisfaction
than younger adults, with those
over age 80
reporting the highest levels of satisfaction.
Looking for just the right gift? It seems the key to older adults' happiness is the same year-round: connections to family and friends, good health and the comforts of home.
ComForCare Home Care provides in-home care services to seniors during the holidays and throughout the year, so they can continue to find happiness at home. To learn more about our services, go to
ComForCare.ca
.