Sometimes Millennials get a bad rap. Some might refer to them as apathetic, entitled or self-involved. But, these are just bad stereotypes. Let's put a face to the 10.1 million people who make up the Millennial generation: Mine, for instance.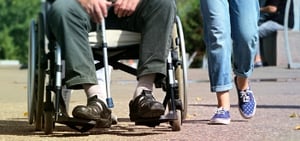 I am a millennial caregiver. I'm in my 20s and have cared for my father and grandmother. However, I am not the exception. In 2012, it was estimated that 1.9 million young Canadians (15-29) provided some form of care to a loved one with a disability, a chronic health condition or aging needs. This means that one in four young Canadians provides care to a family member or friend.Caregiving can look different from situation to situation. You could have a son helping his father shower and eat, or a daughter providing monetary support to her mother. Every caregiving situation is unique. However, many people do not consider themselves family caregivers, but consider caregiving as a part of their duties as a child, grandchild, etc.
Before I was born, my father had to have a toe removed and a fasciotomy due to clogged arteries from smoking. As a side note, a fasciotomy is when connective tissue is cut away to lessen the pressure caused by poor circulation. This surgery and diabetes would create a domino effect of infections for the rest of his life. So, as soon as I was old enough, I helped my mom care for him. Some of my dad's medication would make him dizzy and fall, so we would help him off the floor and guide him back in bed. He loved to be outside and as active as he could, so we would push him in his wheelchair around the neighbourhood.My mom and I were very lucky that we could count on each other to help out with my dad so while my mom was helping my dad get bathed and dressed I could clean the house. Sometimes, you just need a little extra help.
If you are a caregiver and could use some extra help, contact ComForCare Home Care today. Our trained caregivers can help with everyday tasks such as personal care and meal preparation, while you get the rest you deserve. Our services are available 24/7 or for just a few hours per week.
Additional Resources for Caregivers: