This week, May 8-14, is National Nursing Week.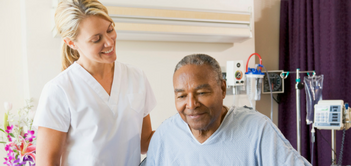 The Canadian Nurses Association has dedicated this week to highlighting the multifaceted role nurses play in our health care system and our society. This year's #YESthisisnursing theme is deliberately tech-based. #YESthisisnursing aims to help Canadians realize technology is helping nursing evolve at an exponential rate.
To honour the diversity within nursing, we talked to three Canadian nurses about their careers.
Nancy, RN, Saskatoon, Saskatchewan
Nancy spent 33 years in labour and delivery nursing, and for the past five years she has worked in palliative care. Nancy has noticed it is "quite common for obstetric nurses to end up working in palliative care at the end of their careers." Nancy feels birth and death have a lot in common. "There is a mystery about both of those times. The mystery of birth and the mystery of leaving this world. I think it's a continuum of a much bigger picture. Everyone is born and everyone dies, and I have had the privilege of being there for these special transitions."
When asked about how she manages to deal with the emotional work of being a nurse, she notes that not every case follows her home. Nancy tries to be as present as possible with all her patients, "I like being with people. I like talking, I like sharing. For me, those interests just led me into this fantastic career of being able to share in the circle of life."
Renée, RN, Toronto, Ontario
Renée has more than 20 years' experience as a health care professional, with a history in neurosurgical and neuro-trauma ICU nursing, focusing on Alzheimer's and dementia. Renée currently owns and operates ComForCare Toronto-Central. At her ComForCare office, the nurses operate as case managers who help her clients and their families navigate the health care system.
Renée finds she draws on her experience as a nurse every day. For example, Renée recently talked to her caregivers about using a hand-over-hand technique to help people brush their teeth. "Sometimes, people with dementia forget how to perform tasks many of us take for granted. Hand-over-hand can help remind the brain of that motion, and people can carry on themselves."
Renée notes at ComForCare, "Nurses function to put the whole story together for the family and the caregiving team." Renée and her nurses work to assemble the most complete "therapeutic toolkit" for each client's unique needs.
Shantel, nursing school graduate, Victoria, British Columbia
Shantel remembers each year of her program being vastly different from the one before: "First year was a lot of getting to know who we were as people and getting to know ourselves. Second year was full-on pathophysiology, learning about illness and what can go wrong in the body. In third year, we focused on global and rural health. Fourth year we learned about our government health system."
Shantel's favourite memories from school involved starting IVs. She remembers some nursing students taking equipment home to practice on each other to perfect their skills. There was a sense of competition about IVs. "You either get it or you don't," Shantel remembers. "You got two tries and if you failed twice, we called in the IV team. So you never wanted to have to do that."
Through her school, Shantel went to Namibia to work in maternal health and pediatric oncology. Shantel went back to Namibia several times and even got her nursing licence there. Shantel is now working in long-term care, following her passion to help people at the end of their lives.
From Nancy in palliative care, to Renée running a ComForCare, to Shantel starting her career and starting IVs, nursing has many faces. Share your stories of the many faces of nursing with the #YESthisisnursing hashtag. Or just sit down with someone you know who works in nursing and ask them about their work. From all of us at ComForCare, happy National Nursing Week!