The holidays are a time to be with family and to enjoy each other's company. Festive gatherings are also an ideal time to get caught up on what your loved ones are doing. Are they enjoying their new class at the gym? Is there any gossip from the Red Hat Society? Are they still able to safely live in their own home?
This last question probably will not come up over the dinner table, but it may cross your mind. Be observant at holiday get-togethers and look for some of the following signs your loved one may need help at home: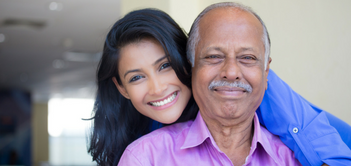 Clothing
Is your loved one wearing clothing that is appropriate for the weather? Are their clothes clean and neat? Does Grandma usually wear a new pair of Christmas earrings and a reindeer sweater, but this year she is wearing a housedress? Difficulty getting dressed may be a sign an older adult needs more help at home.
Noticeable weight loss, diminished appetite or forgetting to eat
Eating and drinking often have a prominent role in holiday celebrations. This provides an excellent opportunity to observe whether your loved one is experiencing a diminished appetite. That said, the holidays can obscure normal eating habits, as there is usually a near-constant stream of food on offer from visitors and neighbours. If a loved one does not eat much at Christmas dinner, this may not mean too much.
However, if you notice significant weight loss, if your loved one refuses a favourite dish, or if you get a peek in your loved one's fridge and see expired or spoiled food, then a more complete picture may be emerging. Consider these may be signs your loved one is having trouble with eating and could benefit from help at home.
Letters and bills piling up
Are there unopened greeting cards in your loved one's mailbox? Are there bills piling up in the front hall? Neglecting to keep up with regular correspondence and bill payment can be a sign your loved one may need help at home.
Inability to do simple housework
We often clean up to make sure our homes are ready for company during the holidays. Take the opportunity to visit with your loved one and look into less-used parts of the house. If there is a thick layer of dust over parts of the home not being used to entertain, consider that regular housework and upkeep may have become too much for your loved one.
Mood swings and personality changes
The holidays present us with a uniform demand for good moods and good cheer, which can often make us grumpy or longing for those who have passed on. Older adults are not immune to holiday stress. That said, if you notice your usually gregarious loved one acting sullen, or if they withdraw from events that usually bring them joy, this could be a sign your loved one could benefit from in-home care.
For a more complete list of signs it may be time to consider home care, download this handy guide. The information can also be a useful piece of evidence when and if you decide to have a conversation about home care with your loved one. Visit ComForCare.ca to find out many ways ComForCare Home Care can help you and your loved one live your best life possible.
From all of us at ComForCare Home Care, have a safe and happy holiday!