Animals can make great companions for older adults who live alone or want the company of a furry friend. But, before you adopt a pet, make sure that your loved one is onboard with the idea.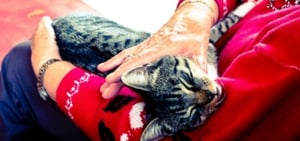 If your grandpa needs his home to be immaculate and shivers at the idea of any disorder, don't drop off a slobbering spaniel. If your mom didn't have a pet growing up, don't surprise her with a delicate chameleon. Even if they were pet owners in the past, your aging loved one may not want the responsibility of caring for the animal.
So, before you adopt or purchase a pet, gauge your loved one's feelings about having an animal in the home. In addition, consider what support your loved one may need in caring for the pet, such as cleaning cages, buying food or taking the pet for a daily walk. For dogs, in particular, ElderDog Canada helps older adults care for their canine companions.
Seniors for Seniors
Local adoption shelters and rescues may hold adoption events or have adoption programs that connect senior dogs with senior humans. Some shelters may even provide a discount on the pet adoption fee for older adults. There are also organizations and websites, such as Petfinder.com, that will find older adults their perfect senior pet match.
The Health Benefits of Pets
Pet birds, such as canaries, were shown to specifically reduce depression in two separate studies in seniors in rehabilitation centres.
In one trial of 68 nursing home residents in Australia, older adults who visited a dog reported less fatigue, tension, confusion and depression.
In addition, some research suggests that having a pet and/or positive interactions with an animal can reduce or affect the risk factors associated with cardiovascular disease: physical inactivity, obesity, hypertension, hyperlipidemia, stress and depression.
A Man's Best Friend
Another perk of pet ownership is the companionship. They provide comfort and support during times of sadness, loneliness or stress. Pets give older adults a reason get out (walks, animal club meetups, even yoga guest-starring animals, etc.) and receive the social interaction with others that they need. Most importantly, pets provide true love and companionship.
If your loved one is not prepared, has a weak immune system or just doesn't want a pet, consider other options for companionship, such senior centres, places of worships, or scheduling more get-togethers with friends, family and neighbours.
Download this guide for more ideas on how to incorporate Meaningful Activities into a loved one's routine.