Falls are the No. 1 cause of injury-related hospitalizations among seniors. They are also the cause of 95 percent of all hip fractures in older adults. Here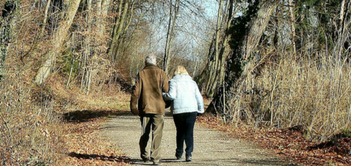 are nine ways to help protect your loved one from falls in winter months.
Here are nine ways to help protect your loved one from falls in winter months.
Have your loved one's vision checked every year. Make sure glasses and/or contacts are used at all times.


Have your loved one's hearing tested. Inner ear problems can affect balance and stability.


Talk to your loved one's doctor about exercises for maintaining strength and balance. Incorporate these exercises into your loved one's daily routine.


Plan trips around the weather. If the forecast calls for snow, do not go out with your loved one unless it is absolutely necessary.


Allow sufficient travel time. In snowy weather, make sure you and your loved one budget more than enough time to get where you need to go. People are less cautious when they rush, which can lead to a fall.


Make sure your loved one's mobility aids are ready for winter. The Canadian Safety Council recommends ice grippers for walking on hard-packed snow or ice. Many cane manufacturers offer a retractable ice tip

,

or you can purchase an ice grip attachment.


Regularly review your loved one's medications with their doctor or pharmacist. Ask about possible medication side effects or interactions that can affect balance and coordination.


Always wear shoes, slippers and winter boots with non-skid soles. Check the bottom of beloved boots for worn treads as this can be a hazard.


Scrape shoes before coming inside. Snow and ice can stick onto the soles of winter boots.
For more information about how to prevent falls, download this handy infographic. Or call ComForCare Home Care for a free home safety check and fall risk assessment at 800-886-4044.