There is a chill in the air and a turkey in the oven. Thanksgiving is right around the corner! Here are some tips to make your holiday enjoyable for relatives of all ages.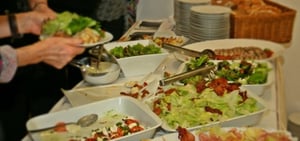 1. Make New Traditions
This first tip will be the key to unlocking all of the others on this list. It's time to nix the phrase, "But we always…" and create new traditions. Traditions are meant to evolve, and if you are going to make Thanksgiving senior-friendly, you will have to let go of but-we-always thinking. For instance, if the grandpa always played a friendly game of pond hockey with the kids, but can't this year, he could still be involved by being the referee, coach or commentator.
If we reframe Thanksgiving as a time to be together and enjoy each other's company, we will do everything we can to make Thanksgiving fun for all ages. If all the traditions are followed and no one has a good time, what is the point?
2. Start Earlier
This tip benefits everyone. Annette of St. Catharines, Ontario said, "We moved the Thanksgiving meal to lunch on Sunday a few years ago, and we'll never go back."
This may involve some more planning and preparation the night before or the morning of the festivities, but it is well worth it. Moving the celebration a day ahead to Sunday also gives everyone who has Monday off a day to rest and relax.
Daytime celebrations are also better both children and older adults who more alert and responsive earlier in the day. Plus, moving the big meal to lunch or even a brunch also helps family members with children and older adults keep to scheduled naps and lunch times.
Having activities in the late afternoon or evening can negatively impact seniors with Alzheimer's or another form of dementia. Some can experience sundowning, which means that disorientation and agitation can increase during the late afternoon and evening.
3. On that Note, Keep It Quiet
We know this may not be possible. But try. Find a quiet corner away from your nosier relatives where you can have a conversation with older loved ones one-on-one. If managing the noise is challenging, keep an eye on seniors in case they become overwhelmed. Appoint one relative to be in charge of taking Uncle Karl to the den for that quiet chat.
If the weather is nice enough, let children run around in the yard as soon as they are done eating, so the adults can chitchat. Even rethink the format of the meal. Maybe this year, rather than crowding around a table, have a buffet so people can eat at their own pace where they are comfortable.
4. While You're at It, Keep It Short
Who says Thanksgiving has to take up the whole day? Lunch can be from noon to 2 p.m. and then everyone is free to do what they want with the rest of their long weekend. Who wouldn't be thankful for that?
Happy Thanksgiving from all of us at ComForCare Home Care!
Editor's note: This article was originally published Oct. 5, 2017. It has been revamped and updated for accuracy and comprehensiveness.