Valentine's Day is the time to celebrate any type of love in your life: The love between friends, between romantic partners, between siblings, and between parents and children. Here are some ideas for making the most of Valentine's Day as a caregiver.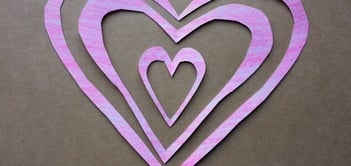 Decorate: You may be doing your same daily activities, but they will be extra special with a bouquet of flowers in the middle of the table or festive hearts strewn around. You can purchase inexpensive decorations or use the opportunity to create a meaningful craft activity and cut out your own colourful hearts and cherubs. Feel free to expand the colour palette beyond pink and red.
Create handmade Valentine's Day cards: This will take some planning, but it can be a fun and meaningful activity leading up to Valentine's Day, culminating in hand-delivering the cards. This can be especially fun in a retirement home setting, where people have accessible mail delivery, or cards can be slipped under residents' doors or delivered in person.
Plan a movie marathon: February weather is a great excuse to stay inside, so plan a marathon of your favourite romantic or love-themed movies. Pink popcorn is optional. If you are feeling organized, keep yourself to a theme. Here are some great groupings that will please all audiences:

Musicals: "Singin' in the Rain," "Gigi," "La La Land"
Audrey Hepburn: "Breakfast at Tiffany's," "Roman Holiday," "Sabrina"
Tom Hanks-Meg Ryan Marathon: "Sleepless in Seattle," "Joe Versus the Volcano," "You've Got Mail"
Jane Austen Marathon: "Emma," "Pride and Prejudice," "Clueless"
Movies About Mature Love: "Something's Gotta Give," "It's Complicated," "I'll See You In My Dreams," "Enough Said"

Walk down memory lane: Take out photo albums and ask your loved one about their memories. You can also create an addendum to the family album with current pictures found online. Many people see pictures of grandchildren only on social media or on family-only spaces for sharing. Print out the photos and create a physical album to add to the memories shelf.
Caregiving springs from love. This Valentine's Day, take the time to celebrate the love you have for family, friends and the person you care for. From all of us at ComForCare Home Care, Happy Valentine's Day!